Alberto Fornai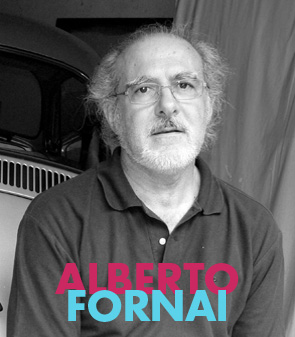 Alberto Fornai was born in Novara on 1947. In 70° years he goes to Brera High School, creators school and nude classes. His first artworks are with metaphysical inspiration, then he changes his subjects with political and social topic, because in the 70° years there was a dispute feeling. He creates a silhouettes with color spots into a nude flooring, that express an oppression and loneliness feeling. In these artworks there are: a compare human- civility, human- violence, human- technologies and human- nature. Fornai represents these situations together other topics like: the cars (he wrote some books about italian Coachbuilders), the history (he loves it because it helps him to understand the life), the violence, the moods, the great painters at work, woman's nude... Fornai paints mainly on canvas with acrylic colors, but he uses also other supports like wood, charcoal, cardboard, packaging cardboard on which to paste cloth, dust, plaster and other materials that opposed with smooth flooring into his artworks. The Fornai's art is figurative, which then become metaphysical and surrealist, also into the productions of etchings and screen prints with limited editions.
Coming Soon products
Presto caricheremo i prodotti in questa categoria. Se ti servono con urgenza contattaci subito!
We will add the product soon. If you need them urgently, contact us!