Arnaud and Adeline Nazare-Aga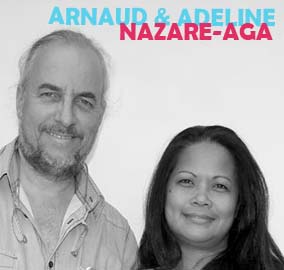 The french designer Arnaud Nazare-Aga and his philippine wife Adeline, meet for the first time at Hong Kong.From this meeting between two different cultures, born a new life and artistic path that will change all the world of the two artists. With Adeline behind the creative wheel and the Arnaud's business skills, they create their sign "Artheline" and the resulting "ARTHELINE PAJ'ART", an art studio based in Bangkok that is dedicated at the production of their creative sculptures. In addition to France, Italy and other European countries, their artistic production also expands in Asia, where they expose in AAF (Affordable Art Fair) Singapore, in Hong Kong galleries, Australia, Singapore and Bangkok. During the AAF Singapore, the Artheline artworks have a great success and recorded almost sold out. These are the sculptures in various sizes, with sinuos lines and bright colors. According to the two artists, these sculptures with sweet, smooth and color shapes, have a task of instilling joy and elevate the mood of everyone who watches them.
"Our work brings stars in the public eyes. We want to contribute to the universal search for happiness."
Artheline.