Bruno Donzelli
Bruno Donzelli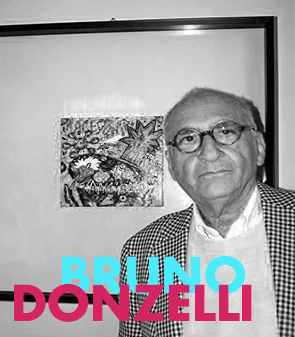 Bruno Donzelli was born in Naples in 1941. Since his young age he distinguishes himself in the italian artistic scene. He has important personal exhibition in famous art galleries and receives numerous prices. At the end of the sixties his attention moves towards the "fantastic sphere": his artwork are carachterized by a dinamism, typical of expressionism, and a certain irony.
From the beginning of the seventies the artist focuses his attention to the revisiting of the pictures of the Vanguards of '900 and of our century. He doesn't only want to observe his beloved artworks from a far distance, so he tries to "steal" them from a museal old context. In this way he reproposes these artworks under a different and bright light.
During the eighties the artists enhances his poetics, coming back to the painting after a period of conceptual and minimalist researches.
In the following years he expones in several and important cities both in Italy and in Europe, among which Florence, Milan, Rome, genoa, Venice, Turin, Paris, Geneve, Dusseldorf, Nice, Koln, Basel and others.
In 2008 he has some exposition abroad and overseas, in Miami, New York and Shangai.
During his entire artistic course, Bruno Donzelli has been able to develop a personal and recognisable language. His art is never flat and has many shades. His art is charachterized by lightful colors and lively shapes. He is considered one of the main interpreters of a new expressive language, which has revitalized the pop art with new and contemporay chromatic expressions.
Artist: Donzelli Bruno

Width: 60 cm

Height: 60 cm

Artist: Donzelli Bruno

Width: 40 cm

Height: 50 cm

Artist: Donzelli Bruno

Width: 25 cm

Height: 25 cm