Joan Miró
Joan Miró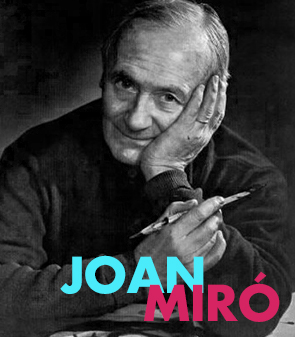 Joan Miró i Ferrà was born in Barcelona (Spain) in 1893.
Despite his evident predisposition for art sinc his young age, hi is forced to study economics. Then, he
starts a career in the accounting field. Thaks to a nervous breakdown, due to much stress at
workplace, he changes his mind: he stops his job to dedicate himself entirely to art, which is his
passion.
In 1912 begins the Academy of Art in Barcelona, which is directed by Galì. He gets in touch with
fauvisme, an artistic movement. Just after six years he has his first personal exposition.
In 1920 he moves to Paris, one of the most lively cities for art and culture in that period. Here he meets
Pablo Picasso and the artistic circle of Tristan Tzara.
During there years he approaches the surrealism, whose style will influence him for all his life and
career.
During the Spanish Civil War (1936 – 1939) the artist is very socially engaged for his country: he
sustains the Republican cause and raises funds for his Nation and for the Spanish people. He is strictly convinced about the social role of Art and therefore paints with his poems on the canvases.
He will come back to his land only in 1940, settling down definitely between Maiorca and Montroig.
In 1954 he wins the prize to the graphics at Venice Biennale and in 1958 The International Prize Guggenheim.
Above others there are also la Medala d'Or de la Generalitat de Catalunya in 1978, and the degree honoris causa
at Barcelona University.
During his artistic career Miró developed a personal and unforgettable style, with shapes between
surrealism and abstactism, always experimenting techniques such as collage, litography, etching,
sculptures and, in the last periods, ceramics.
The artst died the 25th December 1983, at the age of 90, in Palma de Mallorca.