Keith Haring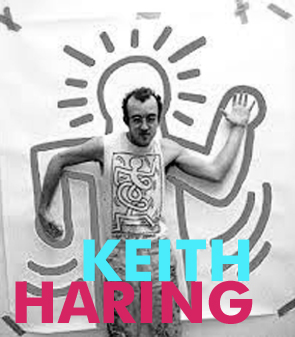 Keith Haring was born in Pennsylvania in 1958.
He approaches the art world since he was young also thanks to the influence of his father, a cartoonist.
He moved to New York in order to study visual art, he begins to be known by making graffiti on the walls of the New York subway. Quickly his simple and recognizable style makes his way in the popular imagination. A style of essential stick figures by thick black outlines in contrast to the colorful characters that seem to come directly from a primitive world, in order to recover with all their simplicity in the frenzy contemporary big cities.
In the fervent artistic climate of the Eighties, the transition from the New York City Walls to the international recognition is short.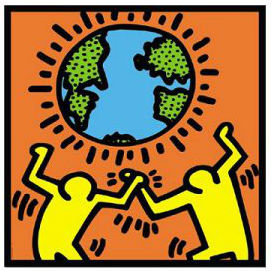 He Began working in many cities around the world, in America, in Europe and also in Australia.
In 1986 he was commissioned a 300 meters graffiti to the Berlin Wall that symbolized the union between East Germany and West Germany, a beautiful example of how art can be a means of expression of thought free from any obstacle.
In Italy we have a beautiful piece of its public art still well preserved on an outside wall of the Sant'Antonio Church in Pisa.
Haring's extraordinary intuition was to open a store in Soho,
Pop Shop
, in which was selling gadgets, T-shirts and reproductions of his works on a variety of items so that his style and his art could get anyone anywhere. What mattered most to Haring was to make his art accessible economically as it was visually accessible to any passerby would walk the streets of many cities in the world.
Unfortunately his career was short because the artist fell ill with HIV and died in 1990.