Pablo Picasso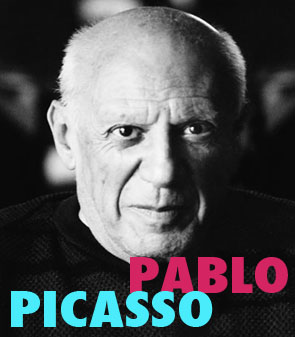 "At twelve I knew draw like Raffaello, but it took me a lifetime to learn to paint like a child..."
Picasso was born in Malaga in 1881. He manifested immediately the artistic talent and when he was fourteen he was admitted to the famous Accademy of Fine Arts in Barcellona. In 1901 he moved to Paris and there he developed his art, painting difficult social themes with sad and gloomy characters. The name of this period was Blu Period of Picasso, where there are cool colors like the blue and the gray. Then Picasso started to paint subjects more cheerful and he used light and warm colors so this period was called Pink Period. In 1907 Picasso created one of the most important artwork of the Cubism: "Les demoiselles de Avignon". The artist started his cubism-period through analytical and synthetic cubism and he looked for the simplification of form. After many cubism years, Picasso returned to a traditional painting and in 1937 he created one of the most famous artwork in the world "Guernica", that he painted in honor of the homonymous city detroyed by Nazism.
Picasso is a good painter and sculptor but also a superb lithographer and one of the most important engraver in the world, with Rembrandt. He created many graphic collections, for example the famous Suite Vollard, a luxury edition that show all the chalcographic talent of Picasso. The Minotaur Collection is one of the most famous edition that express the power of the chalcographic gesture.
After an intense life dedicated to love many women and to created many paintings, lithographs, engravings and sculptures, Picasso was died in Mougins, in the french provence, when he was 91 years old.