Giampaolo Talani
Giampaolo Talani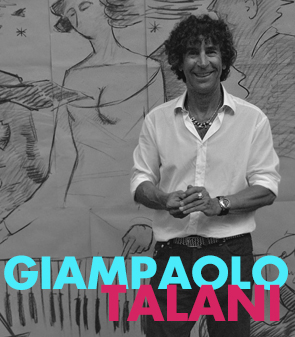 "La vera morte di un artista è dove la ricerca finisce, dove le certezze, gli arrivismi o le illusioni sommergono i dubbi."
(-"The real death of an artist is where the discovery finishes, where the certainties, the careerism or the illusion overhang the doubts"
-)
The Tuscan artist Giampaolo Talani was born in San Vincenzo (Livorno) in 1955. After the atistic high school, he attended the Academy of Fine Arts in Florence, where he has the famous painter Goffredo Trovarelli as a teacher.
During his studies, Talani has experimented all the classical techniques of art, and lastly he dedicadet himself to the painting. Nowadays, he is considered one of the most famous exponents of the fresco technique and he is an author of bronze artworks as well. In his bronze artworks, he makes his favourite subjects of the paintings three-dimentional.
From the 80s and 90s he begins to expone in important art galleries, both in Italy and abroad, and has echibitions in important public venues.
Thanks to the creation of artworks, that have an accepted and shared emotional value and are located in crowded public spaces, this artist underlined the importance of the so called "public art" (arte pubblica).
He took part in the 54th edition of the international exposition la Biennale in Venice, with the artwork "Due uomini con i pesci" (Two men with fishes).
In 2015 The first volume of general archive was published, edited by Galleria d'arte Nozzoli, Archivio Talani, Laura Farina.